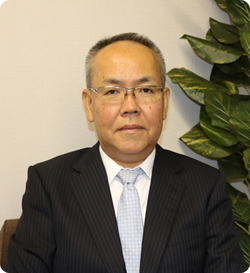 In 2000, we changed our company name to Marubeni Techno Rubber Corporation, after taking over the business of the rubber material group of the Rubber Department of Marubeni Corporation, which had been marketing synthetic and natural rubber products for years around the world.
Currently, we are dealing in various sorts of rubber subsidiary materials, including special carbon blacks, as well as masterbatches. At the same time, we have been proposing new rubber materials to meet different customer needs by utilizing knowledge and data based on years of experience.
Used in every industry and in daily life all over the world, rubber materials have been a precious resource, regardless of the age when we have lived. Aiming for the day that "rubber" will be a word to signify "Marubeni", Marubeni Techno Rubber Corporation is firmly committed to satisfying the expectations of the community.
Kazutaka Sonomoto
President, Marubeni Techno Rubber Corporation